Building York Mansion House
Building York Mansion House

In the words of Town Clerk Darcy Preston, the Mansion House began life as a "proper repository for the records, books, and papers (and also a place for) every Lord Mayor to make his entertainment and his public business".
Writing in 1724, Preston's York looked very different. St Helen's Square was a busy main thoroughfare, as well as being one of the main graveyards for the city, and it was surrounded by small, timber-framed buildings. Only the Guildhall stood out among the chaos, and the vast 'Common Hall Gates' that opened onto it.
The Building Begins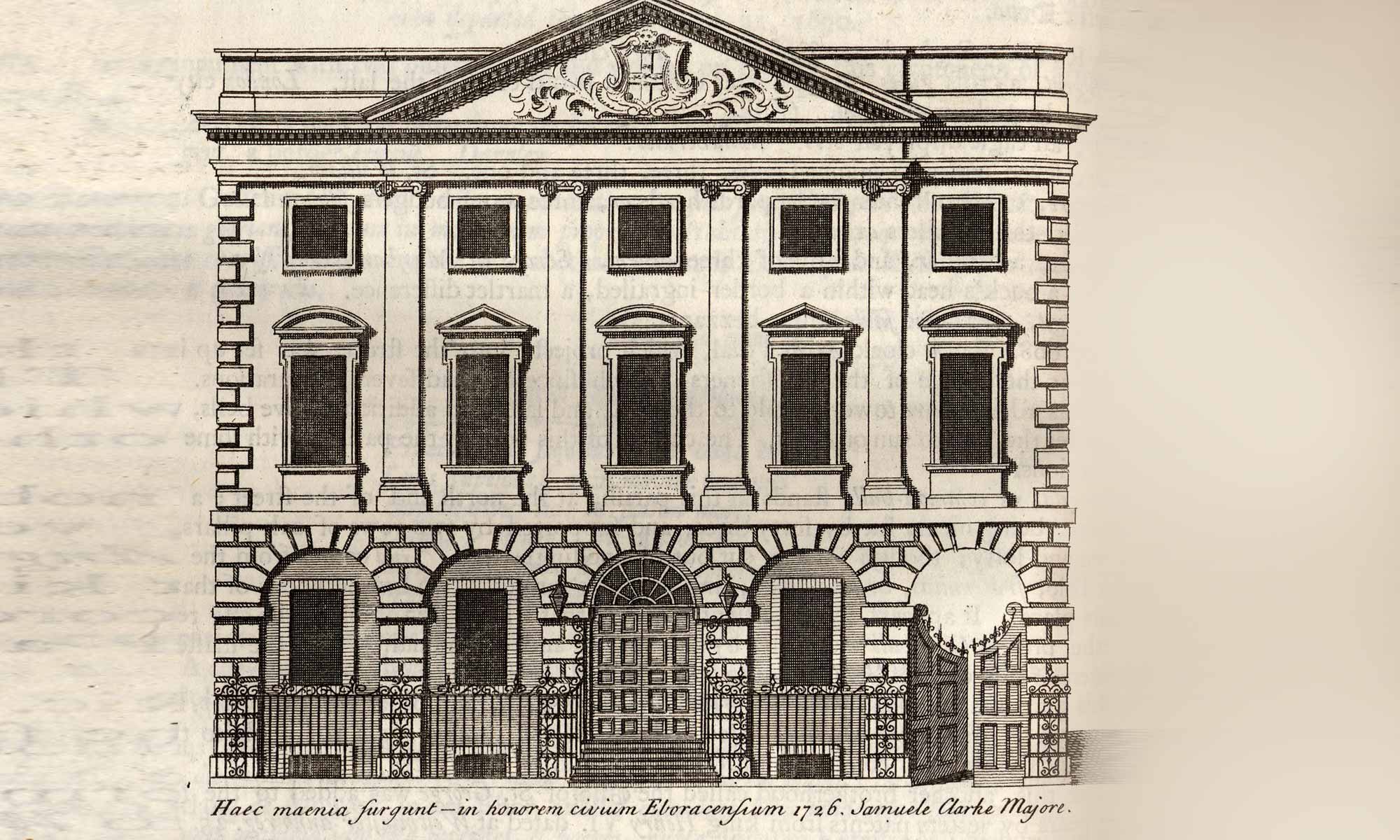 As recorded by Preston, it was deemed appropriate for the Lord Mayor to have a city centre home to welcome distinguished guests and dignitaries, and entertain them in the name of the city.
In 1725 the 'Common Hall Gates' were demolished to make way for the first 'City House', and so began the building of one of the earliest civic buildings built in the classical style. The sum of £1,500 was budgeted for the project, but delays and problems meant this sum was spent quickly, and the project limped along until its completion in 1732.
Design and Planning
There is no recorded architect for the house, rather a building committee of Aldermen – including a toymaker and merchant – who were in charge of the project, supported by Clerk of Works.
In 1727, to assist them in the design of the building, the corporation (who were overseeing the build) bought themselves Gibb's Book of Architecture, a 'pattern book' widely in use in the 18th century. The interior and exterior details of the house can be traced line for line from this book, and the popularity of the 'pattern book' meant many York buildings quickly emulated these design elements.
Take a look around St Helen's Square, it's still possible to trace the 18th century designs across all the buildings, as they were led by the build of the Mansion House.
Reception
Once the house was completed the first description comes from Francis Drake's Eboracum, a 1736 historical study of York. Writing with candour, he summed the Mansion House up as "a neat and convenient building and grand enough".
The Open Doors Restoration Project
From 2014 to 2018, the house underwent the biggest restoration project since it was built. With a grant from the National Lottery Heritage Fund, funding from the City of York Council and a variety of grants and generous donations, the house was transformed into a beautiful events space, interactive visitor attraction, and most importantly, a functional mayoral home.
Find out more about The Open Doors Restoration Project