Collections
From priceless silver to historic swords, our collections are fascinating. Home to the largest collection of civic silver outside of London, the objects we hold tell stories of everyday life and extravagant mayoral tradition.
With so much to explore, we recommend you download our app for some behind-the-scenes stories, and make sure you take a trip to the Silver Galleries on your next visit.
We've picked a few of our favourite pieces to share with you here.
The Great Gold Cup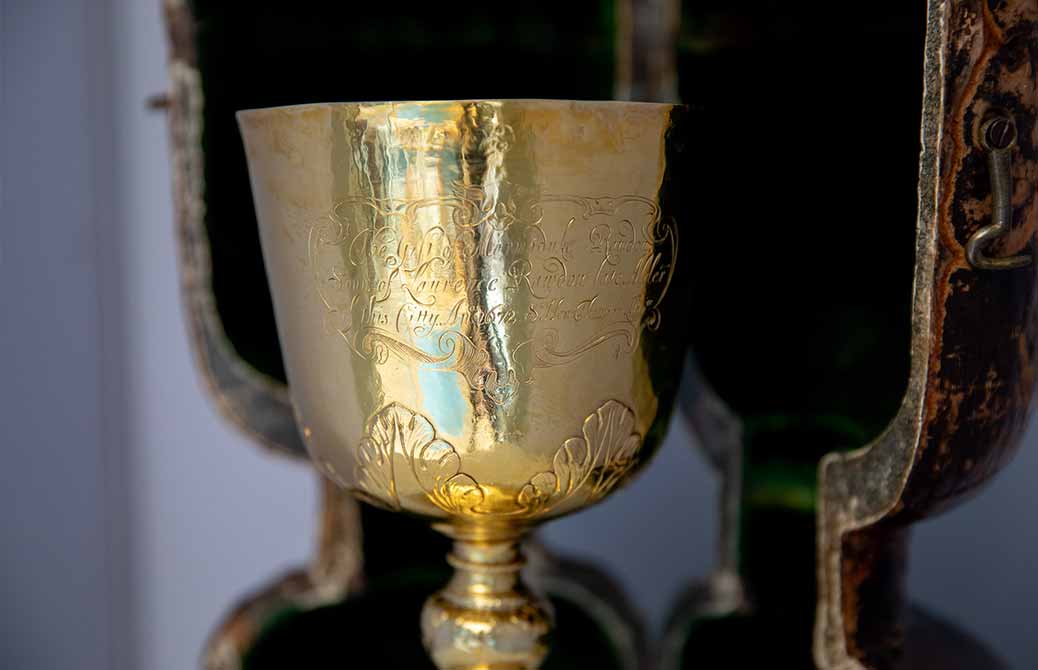 This priceless cup is "one of the most important pieces of gold plate remaining from the 17th century". Complete with its original fitted case, this is one of the earliest surviving pieces of York gold, and was made in York by Marmaduke Best in 1672, thanks to a £100 gift to the city from Marmaduke Rawdon.
Originally a loving cup, the goblet is still today solely used by the Lord Mayor to receive the 'Loyal Toast' and to proclaim significant announcements on the steps of the house. As it is pure gold, it is incredibly soft, the grip of more than a few Lord Mayors has made a mark on this cup.
Find this incredible piece in our Silver Galleries.
The Silver Chamber Pot

Marmaduke Best made his mark on the Mansion House collections, making this solid silver chamber pot in 1672. Believed to be the oldest surviving silver chamber pot in the country, it was reserved for use by high-ranking guests, and may have been used by George IV in 1789, when he visited York as Prince of Wales.
As well as catering to a royal need, this chamber pot is quite the celebrity in its own right. Not one to shy away from the spotlight, it has been featured on Record Breakers and even Have I Got News for You! It's also been featured on a number of radio programmes, though as guests go, this one wasn't the chattiest.
Fortunately, guests to the house can use toilets now, but this chamber pot is still proudly on display in our galleries.
The Chocolate Box

It is thanks to the legacy of 'The Chocolate Mayors' that we have one of our most cherished objects.
In 1914, the City of York sent all York men fighting on the front line, a beautiful box of decorative chocolate from Rowntree's factory. John Bowes Morell was Lord Mayor, and his Sheriff was Oscar Rowntree – both of whom were directors at Rowntree's factory in York.
When the war was over and the men returned home, these boxes became a beautiful keepsake. Decades later, we were contacted by the relatives of York soldier Lesley Peacock, who had somehow kept his chocolate bar pristine and uneaten for all these years. The chocolate is still safely in the original tin box, and displayed proudly in our Drawing Room. We keep it closed, but occasionally lift the lid to smell that delicious chocolate smell, still good 100 years later.
Ask us to show you the box when you next visit.